Skip to content
Saya Enterprises - Wenbley - United Kingdom
Ventilation of food processing facilities
Ventilation expertise and the ability to manufacture unique solutions for food processing facilities are at the heart of our innovations
In many regards, food processing facilities have the most specific cooking equipment out of all food industry. This sector looks pretty far from commercial kitchens.
However, the parallels with commercial kitchens and our expertise and deep understanding Halton has developed in over 50 years in ventilation have contributed to providing unique solutions for food industry processes.
Typical challenges
Industrial scale food manufacturing processes are characterised by nontraditional, typically custom designed cooking equipment, for both their capacity and power requirements. They are often based on a unique type of cooking, steam-based or frying for example. The process generates significant loads of heat, mixed with as large volumes of smoke, steam and grease.
Due to the cooking equipment physical size, especially their height, and the use of lifting mechanisms or conveyors, the exhaust systems are often installed higher. The relationship of the size and location of the ventilation system make it more challenging to efficiently remove the pollutants, while also requiring to modify the shape and dimension of the system.
Lastly, hygiene is a key factor in emissions when the food processing facility is operating near residential neighborhoods.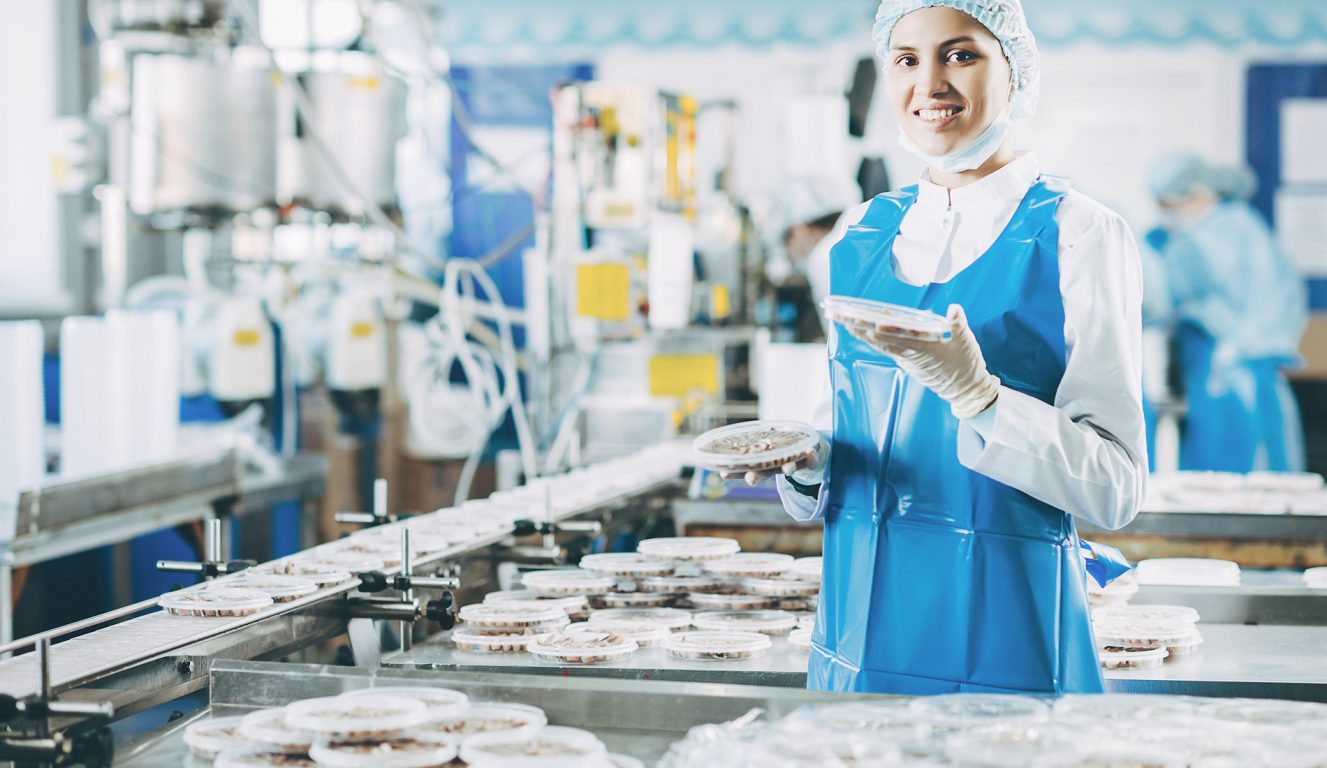 Why choose Halton
Food processing projects are as unique as the food they produce and require calculation methods that are not just extrapolating traditional commercial kitchens exhaust airflow rates. A keen understanding of how the air behaves and how the thermal plumes expand from the equipment is required to provide the right recommendations on the airflows. In addition, the selection of the exhaust system design, their installation provisions, and their dimensions are critical to a successful operation. The supply has to be carefully considered so drafts do not degrade the working conditions or the final exhaust efficiency.
In the food processing field, the key points are Innovation, Expertise, and Customization. Those elements are all part of Halton's DNA.
Halton has innovative technologies that have proven its efficiency in the field of commercial kitchen ventilation.
Halton has the ability to adapt its innovations and to totally customize its products to address food processing challenges.
Halton has 50 years expertise in cooking processes and innovative kitchen ventilation solutions.
Halton has 8 Innovation Hubs and advanced R&D means to carry out tests if projects need it.
Similar kind of heavy duty cooking appliance in front of the Capture Jet™ technology
Halton's solutions other assets
Products and solutions HACCP* certified.
Heat load based calculation tools for the exhaust airflow rates.
Solutions for the neutralisation of the grease and odors released by the cooking appliances which allows the use of sustainable heat recovery.
Global packages exhaust/supply, including air handling units.
M.A.R.V.E.L. Demand Controlled Ventilation systems address the variability of the needs for specific processes.
Remote monitoring and smart services, enabling delivering the lowest failure rate and lowering the maintenance cost.
Contacts us!
Our specialists are at your disposal for inquiries or request for quotations. Do not hesitate to call them or send them an email.
You can also fill in this form.
We'll be in touch with you shortly.
Your current shadow instance is STAGING (staging).
Exit