Skip to content
Meals on Wheels San Francisco
Meals on Wheels
San Francisco, CA, USA
Meals on Wheels San Francisco has served the needs of homebound seniors since 1970. The program was extremely successful and resulting in planning to have a new comprehensive facility built and operational by 2019. Today's facility includes a much larger industrial kitchen, food production zone, and distribution center which supports the ever-growing population.
See Meals on Wheels San Francisco's website – www.mowsf.org
The 35,794 square foot facility located at 2230 Jerrold Avenue, San Francisco, includes a state-of-the-art cook-chill area, high bay freezers, assembly production areas, receiving docks, and rooftop solar panels.
The kitchen is designed to more than double the efficiency and output of meals from 8,000 meals daily to up to 30,000 and to maximize quality and choice for clients.
The production facility is the only one of its kind in San Francisco that will use cook-chill equipment to produce bulk food to be used in meals.
The kitchen is located near the San Francisco Wholesale Produce Market in the Bayview allowing for food recapture opportunities; in time, the facility may also be able to help other organizations fulfill their missions through food.
The facility will house a test kitchen for the creation of new, nutritious, medically tailored recipes based on the availability of seasonal foods.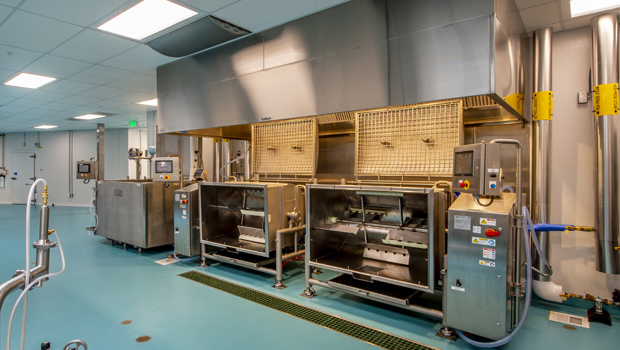 An important consideration for the kitchen ventilation system was to ensure the energy efficiency of the design. In addition, address the potential for significant condensation build-up over the cook-chill line. To address the design requirements, Halton proposed the KCH Capture Jet hood. This hood has a unique interior geometry to channel condensation to a perimeter gutter system and drain. Originally develop by Halton's team in China to address the high moisture cooking it has been listed for use in North America. It has all the benefits of Capture Jet with the added benefit of minimizing condensation issues. Halton's M.A.R.V.E.L. system was the control platform to manage airflow through demand based on cooking status.
Meals on Wheels provides a take behind-the-scenes virtual tour of our new kitchen facility during 50th Anniversary and the OPENING of their brand new state-of-the-art industrial kitchen celebration.
Watch Now Watch the behind-the-scenes virtual tour
Watch Now Watch and listen to Michael Baldwin from Kitchen Professionals express his passion and dedication to Meals on Wheels.
Whether you have one exhaust hood or fifteen, Halton will provide you the best engineering and support in the industry. Kitchen Professionals has worked with Halton for many years and looks forward to many years to come. They provide the best product and support from the ground up with some of the best intuitive engineering solutions. Completing Meals on Wheels in San Francisco with Halton is just another example of their expertise and professionalism.
From the design concept, Halton is prepared to meet with your design team, contractors and tenants to review the system and its capabilities.
Project Team
Foodservice Consultant and Kitchen Equipment Contractor
Kitchen Professionals
Foodservice Representatives:
Foodservice Equipment Agents
Mechanical Representatives:
Norman S. Wright
Need more information?
Our team looks forward to hearing from you. Please give us a call, send us an e-mail, or fill in the form with your questions. We'll be in touch with you shortly.
From inquiries to asking our team specialists, we are here for you!
Your current shadow instance is STAGING (staging).
Exit