Skip to content
MRV – M.A.R.V.E.L. energy saving technology (CE)
Smart and self-balanced airflows optimization system with zone control
CE Marked (UKCA pending) – The M.A.R.V.E.L. system is feature rich with technological innovations. This is the first truly intelligent, responsive, and completely flexible and adaptable demand controlled ventilation (DCV) system designed explicitly for hoods and ventilated ceilings.
M.A.R.V.E.L., in combination with Capture Jet™ technology, offers the lowest levels of energy consumption currently possible, improves users' comfort and also provides for future expandability for the operator.
M.A.R.V.E.L.(1) is the first truly intelligent and responsive Demand Controlled Ventilation system (DCV). Suitable for hoods and ventilated ceilings, it reduces the exhaust airflow rates by up to an incredible 64%.
M.A.R.V.E.L. « scans » the surface of the cooking equipment to determine, in real time, the status of the appliances: switched off, idle or in the process of cooking. Each status corresponds to a different exhaust airflow need. The maximum value is used only in cooking mode, for a limited time period. This leads to a first drastic reduction of exhaust airflows.
M.A.R.V.E.L. has the unique ability to adjust the exhaust airflow hood by hood and in a fully independent way. If just one cooking range is operating, only the airflow for that hood concerned will be automatically adjusted. The other hoods will continue to operate at a low flow rate. It works the same way with the zones of a ventilated ceiling. This ability further reduces the exhaust airflows.
Icing on the cake: M.A.R.V.E.L. continually regulates the speed of the fans to obtain the required rate with minimal pressure. Power consumption is thus kept to the bare minimum.
M.A.R.V.E.L. currently represents the most efficient Demand Controlled Ventilation system with massive financial savings on air conditioning and on the electrical consumption of the fans.
For a full and detailed description of this product, see our Innovative technologies pages.
Compatible with all Capture Jet™ hoods and ventilated ceiling and with Halton's Air Handling Units.
Unrivalled energy and money savings among all DCV systems.
Compatible with the most complex kitchen configurations due to the possibility to control independently up to 4 zones per fan. Coordination of the Supply VAV boxes accordingly to always maintain the air balance.
Kitchen specific ABD motorized balancing dampers used for the adjustment of the exhaust airflow rates.
Full package exhaust, supply, VAV boxes from one supplier with comprehensive control.
Totally self-balanced system which prevents time consuming manual balancing.
Reduced payback times, even for small kitchens thanks to a simplified version.
Equipped with Halton Connect IoT (Internet of Things platform) platform with advanced 24/7 distant monitoring capabilities.
Highest value of ownership thanks to Halton Connect & Care smart services available as an option from kitchens commissioning.
VAV boxes types which can used for the balance between exhaust and supply: HFB and UKV.
(1) Model-based Automated Regulation of Ventilation Exhaust Level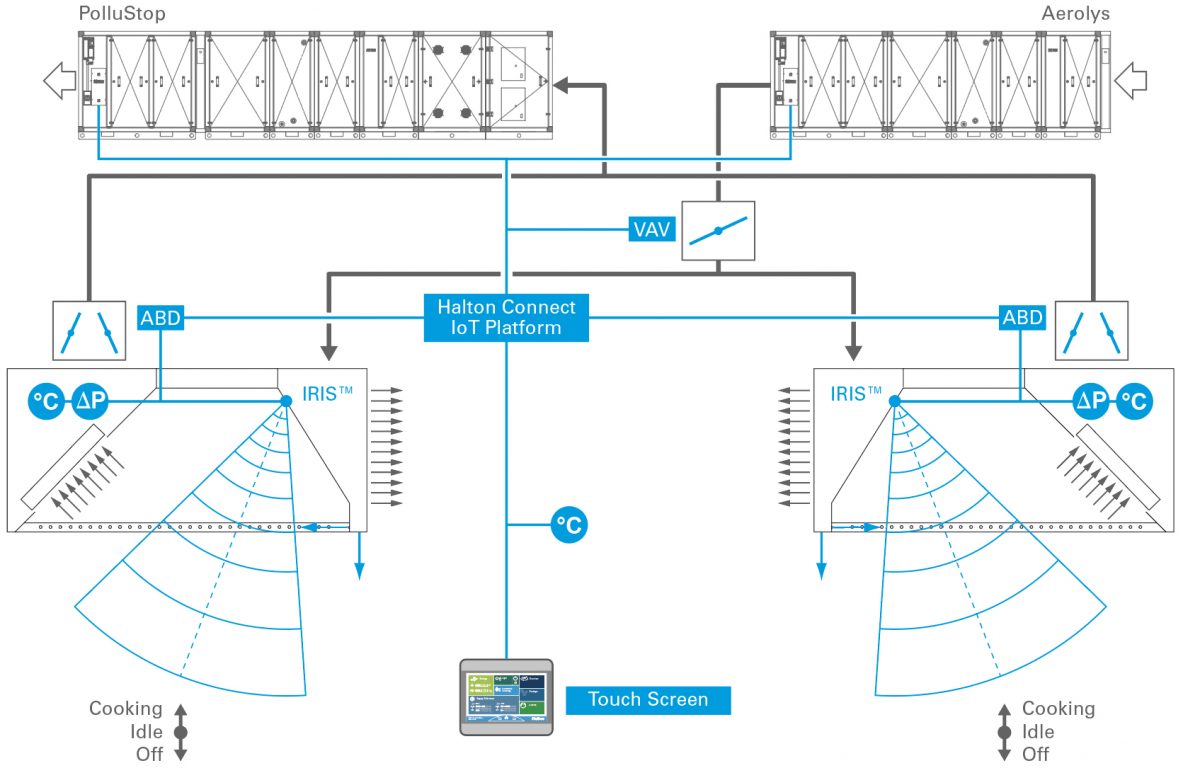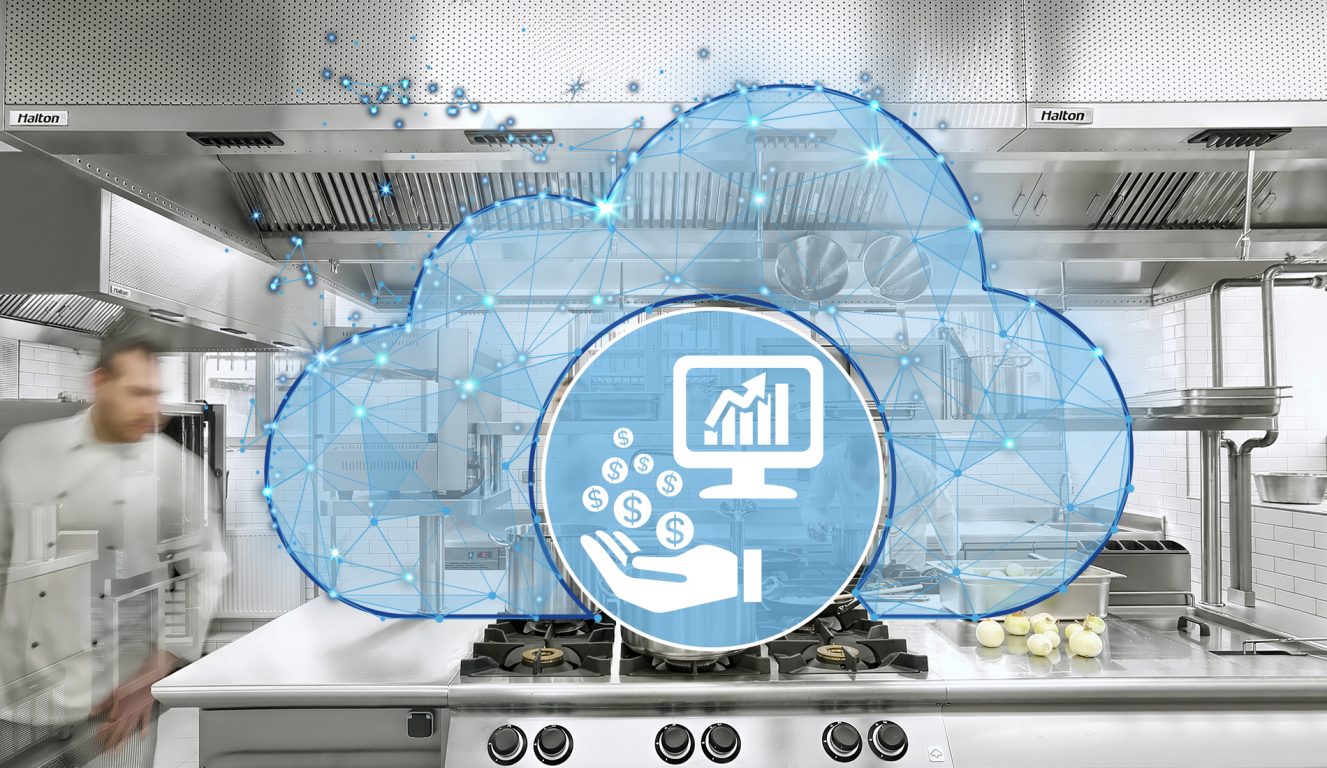 Halton Connect is a state-of-the-art IoT (Internet of Things) platform whose core is an advanced cloud-based portal. It enables 24/7 remote monitoring of the solutions designed by Halton. It allows access to important and useful information along with powerful data analytics to the end users. It also provides crucial information to our engineers. In return, they can remotely and safely control all systems and their settings when required.
This digital "two directions" technology opens the way to Premium Services that are vital to keep the performance of the systems and technologies at the initial design level and during the entire lifecycle. Even better! They enable continuous optimisation of your systems, resulting in even lower operating costs.
71% cut in the ventilation energy bill
That's what BGR (German Federal Institute for Geosciences and Natural Resources) benefit of after the refurbishment of their staff restaurant. This thanks to a high efficient combination of the Demand Controlled Ventilation system M.A.R.V.E.L. and the Capture Ray™ Technology which enables heat recovery on the top of the savings gained by M.A.R.V.E.L. This shows that the savings gained by Demand Controlled systems is not made at the expense of heat recovery.
Your current shadow instance is STAGING (staging).
Exit