Skip to content
KCD – Kitchen Ceiling Diffuser (CE)
High airflow capacities
CE Marked (UKCA pending) – KCD diffusers are designed to provide for high volumes of makeup air at very low velocity. They are particularly suitable for delivering the makeup air in small kitchens or kitchens used with Halton's M.A.R.V.E.L. airflow optimization technology.
Uncontrolled draughts – even the smallest ones – can totally ruin the Capture & Containment capacity of hoods. A well designed make up air strategy contributes not only to guarantee this efficiency but also to the final Indoor Air Quality (IAQ) inside the kitchen. It should always be considered as an inherent part of the kitchen ventilation solution.
Halton's KCD ceiling diffuser has been specifically designed for kitchens. It provides for a high volume of supply air ideally at 60 cm minimum of the hood(s) without disrupting hood performance. Tested performance of supply air discharge ensures that airflow, pressure drop, and NC (Noise Criteria) specifications are met.
KCD diffusers are particularly suitable for small kitchens, especially when they are equipped with Halton's M.A.R.V.E.L. (Demand Controlled Ventilation). This technology constantly adjusts the exhaust airflow rates depending on cooking activity as well as the associated supply airflow rates. KCD diffusers have an excellent reaction to variable airflows.
Best balance ratio efficiency/ceiling coverage.
Limited draft compared to traditional 4-way diffusers. Do not degrade the capture efficiency of the hoods.
Low pressure drop and sound pressure levels.
Fixed front face made of 1.0 mm AISI 304 stainless steel. Plenum made of galvanised steel.
Compatible with 600×600 mm ceilings.
KCD 600×600 / 9 kg
KCD 600×1200 / 19 kg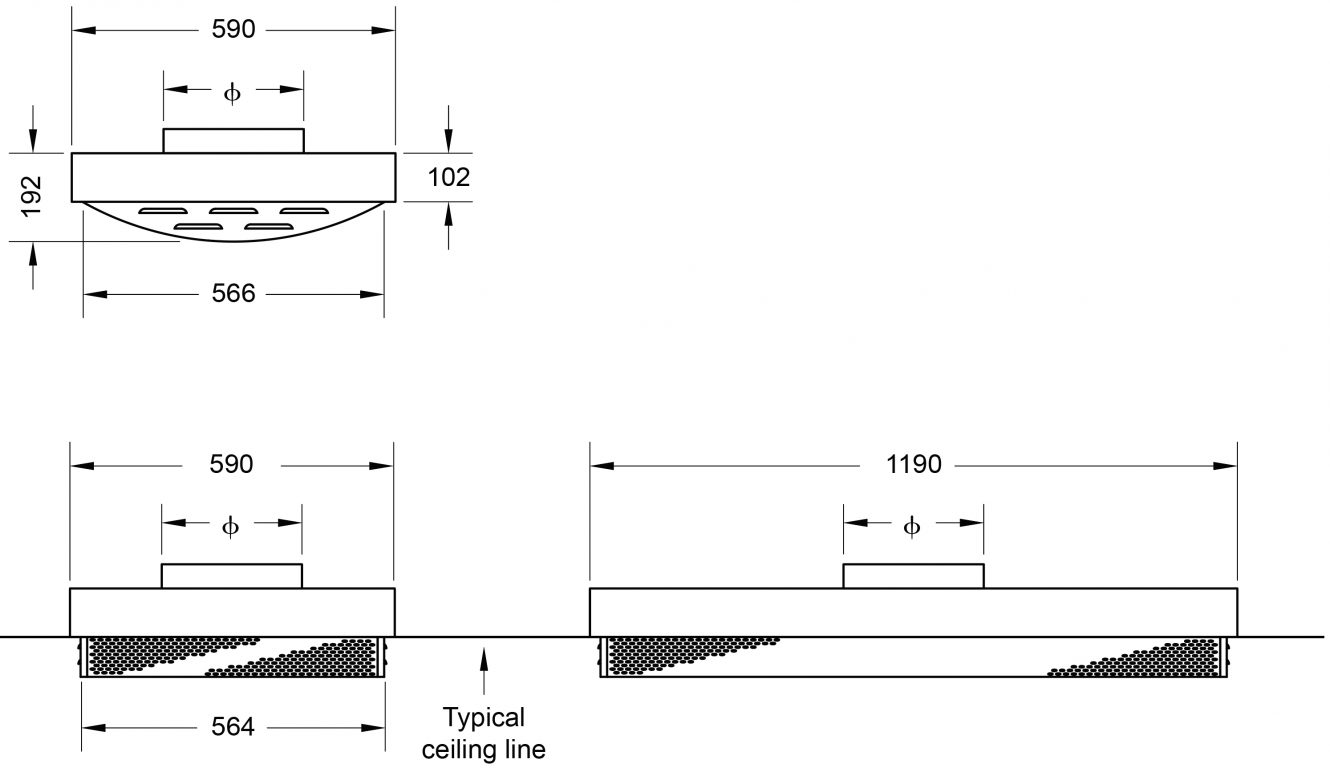 Throws @ 0.5 / 0.4 / 0.25 m/s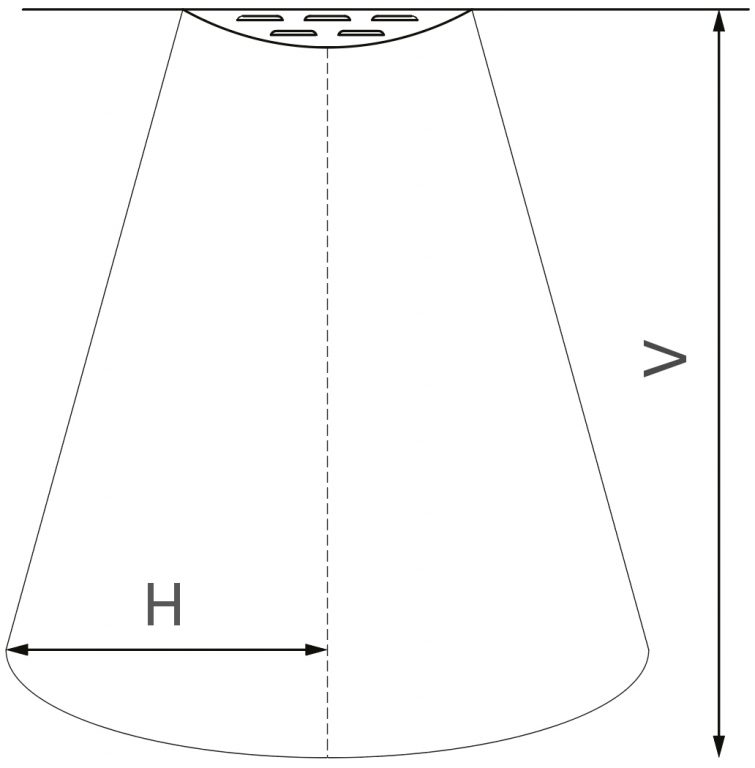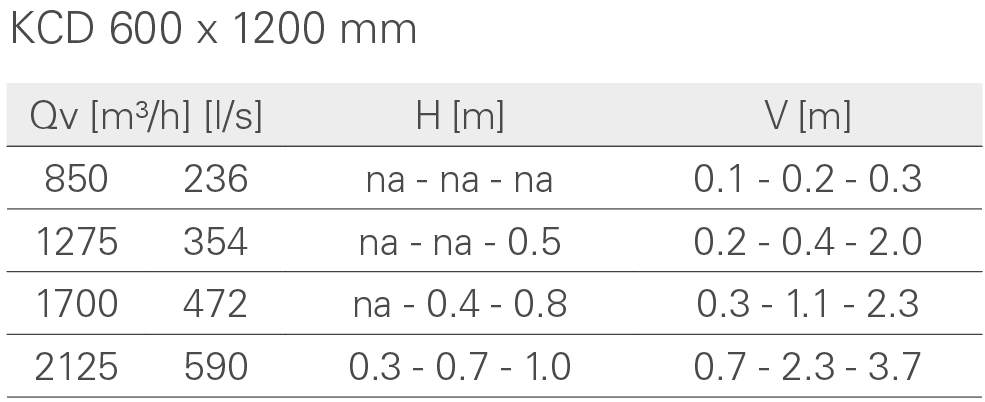 Quick selection data
(1) Air velocity at diffuser connection
(2) Static pressure drop at diffuser connection
(3) Acoustic power level
(4) Sound pressure level with ∆Lr=4 dB
* Recommended values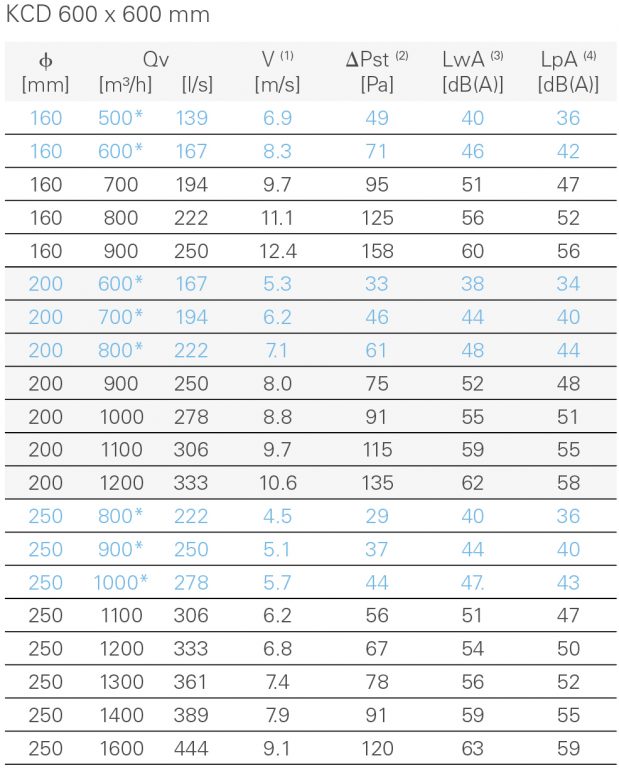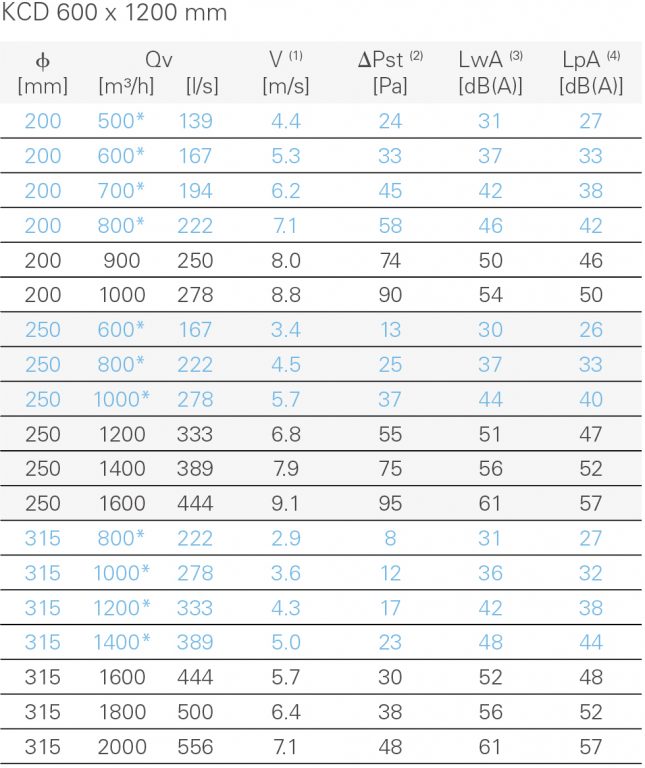 Your current shadow instance is STAGING (staging).
Exit